"If everything around you seems dark, look again, you may be the light" - Rumi
How is stretching more possible?
We, the disabled become invisible in times of crisis. Be it natural or human-induced. Why do we need to stretch more in chaotic times? What was the last news you heard about us in times of war and attacks? How do we survive in disaster-prone areas? Do we even survive?
We can train or empower ourselves to survive. For more info watch the complete speech and listen how it's possible.
Vision
A world where the disabled become big dreamers, contributors to their communities, & future leaders by taking charge of their own lives, especially during crises, & refusing pity, either by themselves or others.
 Mission
To challenge the stigma, pity, and victimization of persons with disabilities, we will empower them with skills that would help them to survive in crisis situations through sports, leadership, survival and problem solving skills.
Our first training program: Life-saving Camp 2022 - for blind and physically disabled
Climate change comes with a lot of disasters. One of the disasters is floods. It can be deadly for persons with disabilities, who don't know swimming and have no access to skills and tools to survive. Therefore, Stretch More would like to contribute towards saving the lives of the disabled through swimming and first aid training. As an equitable tool, swimming can also give confidence to the disabled. It's a sport that helps us stay healthy and fit. For those of us with disabilities and who don't have much opportunities to move around, swimming can be existential.
In collaboration with the kanthari organization, We would like to conduct a 15-day training on swimming. Why swimming? Because it will help the disabled to survive without waiting for someone to save them. In fact, they might be able to rescue others, too. We will train 10 disabled – 5 blind and 5 physically disabled. With the help of kanthari, we will have free access to a lake which is ideal for learning swimming. Kanthari is an NGO that trains 25 social change-makers every year and I'm one of them.
How do we do the training?
1. We will find the disabled interested in swimming
2. We will train them on how to swim. We call it self-survival. On top of that, how to use survival tools such as using water filters while the floodwater may not be directly drinkable in flood times.
3. We will also train them on first aid such as how to do CPR, deal with snakebite and usage of first aid kit. We call it helping others to survive.
Selection criteria:
· An applicant should be 15 years old or above.
· Should be able to move.
Deadline for application: 10 Feb
Click on the link to apply: https://forms.gle/3qeTFE4Pqa9DSoRb9
According to UN
There are more than 1 billion disabled in the world that is 15% of the entire population.
Over 10 million refugees have disabilities.
Persons with disabilities are more likely to be left behind or abandoned during evacuation in disasters and conflict due to a lack preparation and planning, as well as inaccessible facilities and services and transportation systems.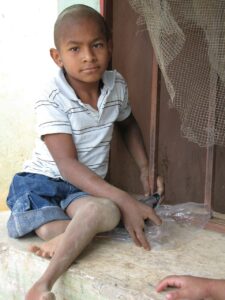 "What do our participants say about the Lifesaving Camp 2022 ?
The Lifesaving Camp 2022 took place from 21 Feb – 07 March. Four blind participants learned swimming, first-aid and survival training. Follow our website for more info at www.stretchmore.org Subscribe to our newsletter (at the footer of our website)
Interested? Join us for making an impact!
You can donate, volunteer or tell your family and friends about the impact we are making.
Or simply drop us an email or message.